​​​​​​​Its primary feature is an interactive staff-moderated map that showcases all gaming, fantasy, comic and anime events in Europe and even allows users to suggest new events or events that haven't yet been covered.
Once a user saves a convention to their profile, they'll have access to a unique window allowing them to manage their accommodation, travel plans and cosplay plans for that specific convention and see the rest of the information for it, all in one place.
To help out these user profiles, numerous features were built, including but not limited to:
- Integration with booking websites such as Booking.com, allowing a one-tap search for accommodation that matches a convention's dates, location, and even user's preferences such as the number of guests or type of stay
- A note-taking window under each con saved on the user's profile so that all con-specific info lives on a single page
- A special Meetups tab, a place where users post their own sub-events and gatherings that happen during a convention, complete with a meetup-specific chat, allowing attendees to make plans prior to the meetup
While not all of the features were implementable at the time, the responses gave a good roadmap for future updates.
Initial Sketches
The sketches helped with brainstorming the most important features, screens, as well as the user flow.
This design system ensured consistency all across the board, helping the app feel cohesive no matter where the user is.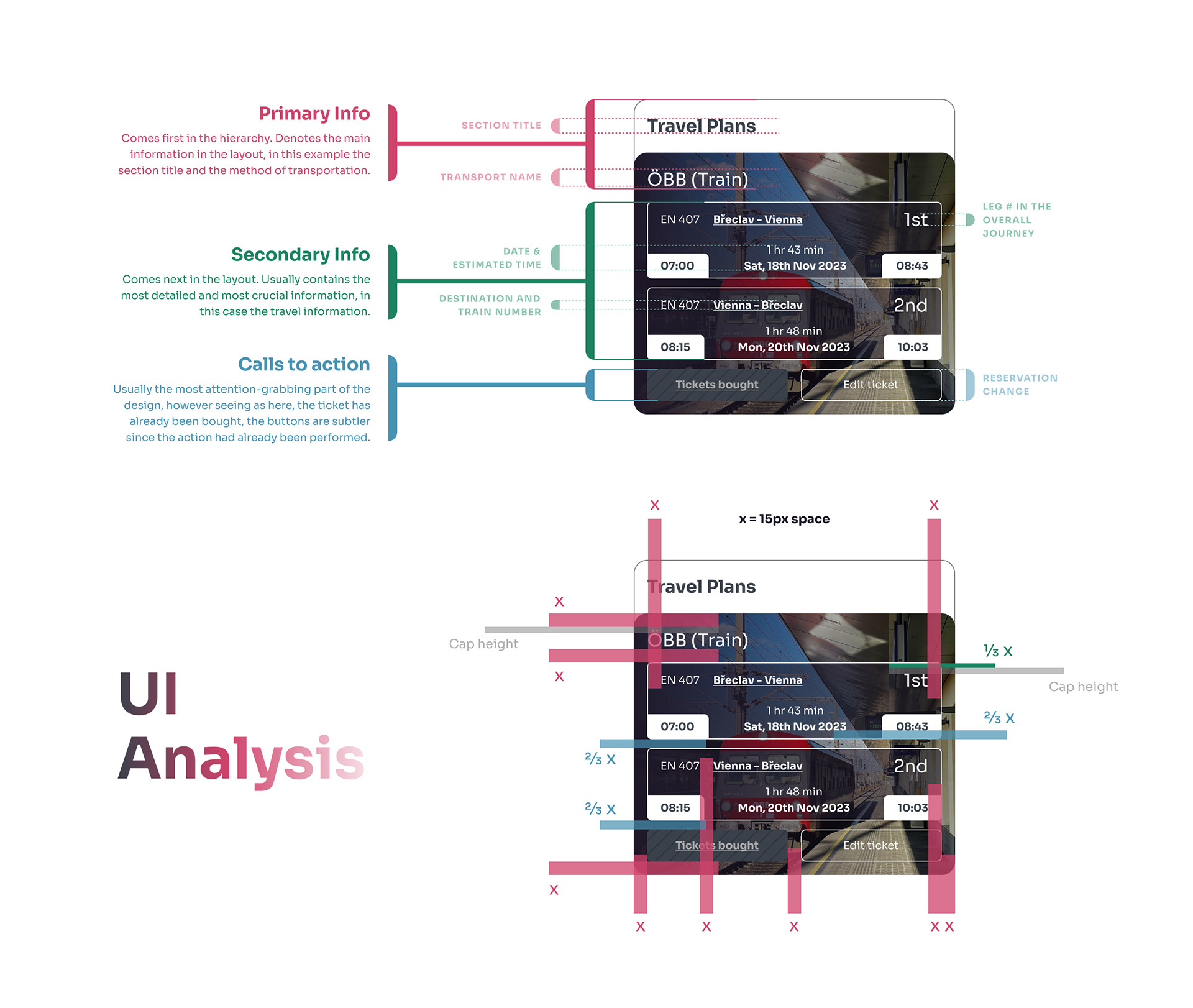 It was very important to align the UI mathematically, optically and in a hierarchy that makes logical sense. Typically, for spaces between elements, a single value would be determined (in this case 15px) that would command all the relationships between buttons, text, containers and the such.
As for the content, it typically gets divided into primary, attention-grabbing info; secondary, more detailed info; and calls to action prompting the user to go to the next step, as is the case on one of the UI cards analysed above.
To help the initial promotion of the app, some advertising guidelines were also established. This visual branding uses dashed and wiggly lines to channel the childlike wonder that conventions bring to people, coupled with the rest of the brand that was established in the design system.
As someone who's a regular visitor of anime conventions and has been passionate about cosplay since childhood, I experienced first-hand the struggles of properly organising your own "con season". 
Noticing that I'm not the only one with this sort of problem, it became evident that there was a real need for a "con helper" app that one would use to store and find all the info that typically lives scattered in numerous note apps, social media messages, or even on physical paper. The few websites out there that do offer convention lists and interactive maps lack the modern design and mobile accessibility that is so imperative in present day.
Of course, this app showcase has only been a prototype, but with proper monetization (likely a freemium model), there's real potential to make this app into a real, working software. There could even be a small one-time fee to get your con onto the map (literally). The possibilities are numerous.